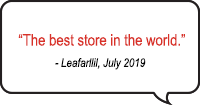 Get the latest news on comic books, contests & exclusive deals sent directly to your inbox. Plus, receive a special coupon when you sign up.




Home
>
Collectibles
>
Profile: Back To The Future Flux Capacitor Replica - Unlimited Edition

This item is currently not available, but we will special order a copy from our supplier if you choose to backorder it from us today. Delivery will be delayed while the backorder is processed and shipped from our supplier to our warehouse. Your credit card will not be charged for this item until it is ready to be shipped to you. For more information, please see our backordering help page.
A Diamond Select Release!

One of the hottest and most iconic prop replicas in film history, now fans have a second chance to bring home the star of 1985's Back to the Future - the Flux Capacitor!

Back by popular demand with improved film accuracy, this Unlimited Edition features an upgraded non-strobe light design while delivering all the detail from the sold-out first edition. Replicas like this only come along a few times each century, so be sure to reserve yours today before you're "Out a Time"!
Jan 22, 2010 -

Jeannette

from CANADA:





This was a gift for my boyfriend and it was a huge hit he LOVES it!!! it is now the on the wall in our entertainment room for all to enjoy.

Dec 09, 2009 -

Marty McFly

from Hill Valley, CA:





This flux capacitor is rather inferior to the one Doc built. It only allows time travel in a forward direction, and then only in real time. O.K. for time travelers on a budget, though. By the way, don't try to put 1.21 jigowatts, gigawats, or any other kinda watts into it. It just smokes real bad and smells like my sisters socks.