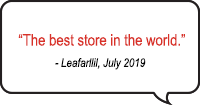 Get the latest news on comic books, contests & exclusive deals sent directly to your inbox. Plus, receive a special coupon when you sign up.




Home
>
Comics
>
Profile: DF My Little Pony Friendship is Magic #1 Remark Edition

This special variant features a one-of-a-kind hand-drawn head sketch of one of the Mane Six, right there on the cover (see it right there in the lower right portion of the cover?)!

Signed and remarked by up-and-coming artist Brian Milligan. Available at the special introductory price through December 31, 2012!


With this item, you will receive one copy of this exclusive variant chosen at random. You have a 1/6 chance of getting a cover featuring your favorite Mane Six member. Sorry, we cannot accommodate requests for specific characters.
PLEASE NOTE: Above image is for illustrative purposes only. Each My Little Pony head sketch (in the lower right portion of the cover) is hand drawn, so your copy will vary from the image displayed here.
Found 63 results for

Comics > Theme: My Little Pony

: