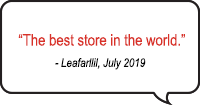 Get the latest news on comic books, contests & exclusive deals sent directly to your inbox. Plus, receive a special coupon when you sign up.




Home
>
Comics
>
Profile: Female Force #24 Rosie O'Donnell

NOT AVAILABLE

Add to Watchdog
She went from the 'Queen of Nice' to the 'Queen of Mean'. But has Rosie O'Donnell really changed that much? Find out in Bluewater's Fame: Rosie O'Donnell.