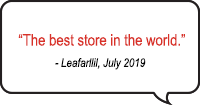 Get the latest news on comic books, contests & exclusive deals sent directly to your inbox. Plus, receive a special coupon when you sign up.




Home
>
Comics
>
Profile: Locke & Key Clockworks #6 (of 6)

As a storm thunders up the coast to Lovecraft, Massachusetts, the Keepers of the Keys face Dodge a final time, under three hundred feet of stone, in the darkness before the Black Door.

Here, water will mix with blood and The Drowning Cave will become a colossal grave, in the final issue of the CLOCKWORKS storyline.
Found 15 items. Showing items 1-15.
Page 1 of 1
Found 15 results for

Comics > Theme: Best Selling Novelists

:



Found 15 items. Showing items 1-15.
Page 1 of 1