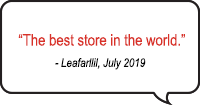 Get the latest news on comic books, contests & exclusive deals sent directly to your inbox. Plus, receive a special coupon when you sign up.




Home
>
Comics
>
Profile: Star Trek Romulans Treasury Ed

Master storyteller John Byrne, famed for his classic runs on Uncanny X-Men and Next Men, presents a trio of Classic Trek stories featuring the Romulan Empire. These are classic stories adventure, danger and intrigue, and even more importantly÷ John Byrne's art just looks so cool printed in our awesome treasury format!
Found 59 results for

Comics > Theme: Star Trek

: