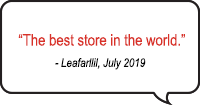 Get the latest news on comic books, contests & exclusive deals sent directly to your inbox. Plus, receive a special coupon when you sign up.




Home
>
Comics
>
Profile: The Guild: Zaboo (one-shot) (Evan Dorkin cover)

Zaboo has loved Cyd's game avatar Codex from afar since the two first met playing The Game. Just what he'll do for love comes to the fore as he senses Cyd is in trouble and embarks on a real-life quest to escape his mother and become Cyd's knight in shining armor.

Cowritten by Guild creator and star Felicia Day and costar Sandeep Parikh and brought to life by innovative artist Becky Cloonan!

* Filled with interactive pages and other game features.

* Leads directly into The Guild season 1!
Found 4 items. Showing items 1-4.
Page 1 of 1
Found 4 results for

Comics > Theme: Gamer

: