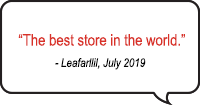 Get the latest news on comic books, contests & exclusive deals sent directly to your inbox. Plus, receive a special coupon when you sign up.




Home
>
Graphic Novels
>
Profile: Buffy the Vampire Slayer: Season Eight Vol. 8 - Last Gleaming TPB

By:

Joss Whedon

,

Jane Espenson

,

Scott Allie

,

Georges Jeanty

,

Karl Moline

,

Andy Owens

,

Michelle Madsen

,

Jo Chen

Type:
Graphic Novels
Genres:

Action-Adventure

,

Fantasy

,

Horror

,

Television

Publisher:

Dark Horse

Pub. Date:
June 01, 2011
Availability:
Released
ISBN:
978-1-59582-610-7
For ages:
14+
Details:
Full color, TPB, 168 pages 7" x 10"
The season finale is here! At long last, the Big Bad stands revealed-Angel is back, and it's tearing the Scoobies apart, testing the limits of their friendship. But Twilight's unmasking is only the beginning, and Buffy must still face the ultimate betrayal.

Series creator Joss Whedon writes the final story arc of Buffy Season 8, taking his greatest characters to places only he can! Teamed with series artist Georges Jeanty, Joss reunites the dysfunctional gang of Buffy, Angel, and Spike, in the thick of it together for the first time since Season 3, and gives the Scoobies their gravest challenge ever, defending reality itself from the onslaught of demons. It's the biggest Buffy finale ever!

Collects Buffy Season 8 #36 through #40. This volume also includes the spy-thriller Riley one-shot by Buffy series writer Jane Espenson and artist Karl Moline.
May 08, 2012 -

cecilia brigada

from pavia, italy:





great

Jan 19, 2012 -

Keith

from NJ:





Awesome book and beautifully drawn.

Aug 02, 2011 -

Melissa

from Arizona:





Despite my misgivings at the beginning of the season 8 comic series, I have enjoyed the season overall, and season 8 ended really well. I enjoyed the final comics! Looking forward to the next season!

Jul 26, 2011 -

Alicia-Marie

from Los Angeles:





LOVELY artwork. The endng is fantastic. After everything Buffy has been through in the series, I love the back to basics attitude. I can't wait to see how we get to "Fray"'s version of the future. Comic was in perfect condition when it arrived. Thanks!

Jul 05, 2011 -

Kira

from Dallas, TX:





Keep the comics coming!

Show 2 oldest reviews