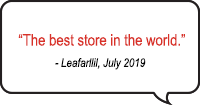 Get the latest news on comic books, contests & exclusive deals sent directly to your inbox. Plus, receive a special coupon when you sign up.




Kir Kanos, the last surviving member of Emperor Palpatine's Royal Guard, is ready to settle a score with Luke Skywalker and those others whom he blames for the death of his Emperor. But standing in Kanos's path is his former adversary and almost love interest Mirith Sinn. And both of them have become pawns in a secret plot by an Imperial cabal!

*The final chapter in the Crimson Empire saga!
Found 34 results for

Graphic Novels > Theme: Star Wars

: