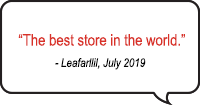 Get the latest news on comic books, contests & exclusive deals sent directly to your inbox. Plus, receive a special coupon when you sign up.




Alone, deep behind enemy lines, Jedi Knight Kerra Holt has a new plan--liberate her homeworld from the Sith! But when her arrival on the planet coincides with an ambush from a Hutt mastermind, her daring rescue quickly starts looking like a suicide mission. Collects the five-issue miniseries.
* The sequel to John Jackson Miller's New York Times bestseller!
Found 34 results for

Graphic Novels > Theme: Star Wars

: