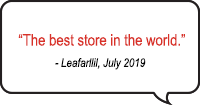 Get the latest news on comic books, contests & exclusive deals sent directly to your inbox. Plus, receive a special coupon when you sign up.




Home
>
Toys
>
Profile: Emily the Strange Rag Doll

Emily makes her friends; now we made you an Emily! Let your imagination run wild with this ragtag rag doll. Adopt an Emily now!
Found 45 results for

Toys > Theme: Gifts for Her

: