Secret Invasion by Bendis Omnibus HC
PRICE:
$40.00
INVENTORY:
SOLD OUT!

Time until next deal:
17
:
29
:
11
Brian Michael Bendis' complete saga between two covers! It begins with a brutal battle between the New Avengers and the Hand - one that claims Elektra's life and reveals that she was...a Skrull! What does this mean for Tony Stark and his Mighty Avengers? Or his shadowy Illuminati? Soon, the whole Marvel Universe will be asking: Whom do you trust? As the Secret Invasion stands revealed and the Skrulls attack Earth, which heroes will be exposed as alien impostors? Can the Secret Warriors turn the tide? And can anyone stop the Skrull queen Veranke - whoever she is?! Plus: Bendis and a murderers' row of artistic talents reveal how your favorite Avengers were secretly replaced! Collecting SECRET INVASION #1-8, SECRET INVASION PROLOGUE, NEW AVENGERS (2004) #31-32 and #39-49, MIGHTY AVENGERS (2007) #7 and #12-20, and NEW AVENGERS: ILLUMINATI (2007) #1 and #5. Rated T+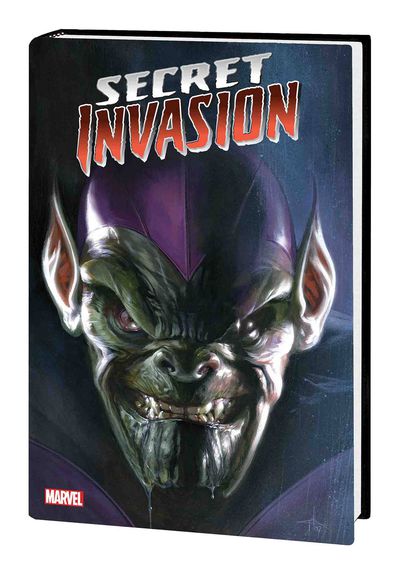 Deal of the Day pricing is good only during the specified 24-hour period, from 12:00 a.m. to 11:59 p.m. PST, while supplies last. This price does not apply to back-orders, related items, or variant editions of said product. Purchase must be made during the specified 24-hour period to qualify for special pricing. Supplies are limited and orders are taken and fulfilled on a first-come, first-served basis. We work with a live inventory, and may sell through our stock between the time you add a Deal of the Day product to your cart and the time that you attempt to finish your order. No rainchecks or holds can be placed for Deal of the Day items.

In the event we sell out of any given Deal of the Day product, we may introduce a new Deal of the Day product for the remainder of the day. In such an event we will not send out an additional email for the replacement product, and only one replacement product will be offered per day.