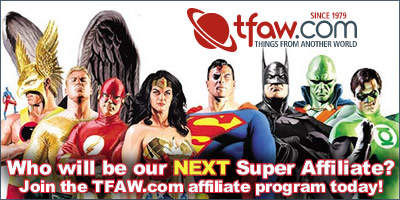 As you may already know, comics and pop-culture products are a multi-million dollar industry, and have become mainstream with more comic-based feature films and merchandise arriving every year.
As a member of our affiliate program you will be promoting our products to a highly dedicated customer base. Promoting comics and collectibles online currently has very little competition from other affiliates. This translates to increased potential revenue for you!
TFAW.com offers over 20,000 pop culture products, with thousands of comics, toys, statues, apparel, graphic novels and other collectibles. We carry a huge variety of popular entertainment products from hundreds of manufacturers, including DC Direct, Dark Horse, Hasbro, McFarlane, Marvel, Tokyopop, Master Replicas, Disney and many more. We also carry the full Diamond Comic Distributors catalog with thousands of new advance order products every month.
Some of our more popular product lines include: Spider-Man, Batman, Buffy the Vampire Slayer, The Justice League, Ant-Man, The Walking Dead, Star Wars, X-Men and hundreds more. With product offerings like this, we have something for nearly every online shopper.
Program Highlights
Earn 14% commission on all in-stock and pre-order comics, graphic novels, toys, statues and other merchandise. (NOTE: All coupon sites earn 1% commission instead.)
Receive a $5 CAB (cash activation bonus) after your first sale
Monthly Performance Incentives: $50 Cash Bonus at $1000 in sales or $25 Cash Bonus when you reach $500 in sales
90 day return cookie with unlimited transactions - if the customer makes 3 different purchases within 90 days, you receive commissions for ALL of these sales.
HUGE datafeed makes it easier to promote a wide variety of products or laser-focus on your niche
Free affiliate datafeed tools: PopShops, GoldenCAN & DataFeedFile (Don't worry if you don't know what these are - we do, and we can help)
Proud members of the SAS Certified Premier Merchant Program, which among other things, means that our program is exclusive to ShareASale
Consistently Updated Promos and Coupons
We ship all our products worldwide
Excellent customer service and 800# phone tracking: You will receive commissions on sales received through our toll free customer service line as well as orders placed online
Knowledgeable & Responsive Affiliate Management Team
Do I need a website to join your program? YES. In order to promote our site and/or products, you will need a website on which to place links to TFAW.com. The application process is optimized for people who own their own domain and have an email address in that domain (i.e. you own somesite.com and have an email address myname@somesite.com). You're also welcome to register with a personal web page or blog, but the application process will take a bit longer in these cases as our affiliate network verifies your identity. Unfortunately we cannot accept applications if your only presence online is a Myspace or Facebook profile. These sites and other social networks prohibit the use of affiliate links on their sites.

There aren't many affiliate programs promoting comics and collectibles, but we think you'll find that our program is one of the best in the industry. Diversify your affiliate portfolio today by promoting a niche that has very little seasonality, great products, and a fanatically dedicated fan base. Please give TFAW.com a chance to monetize your traffic; you'll be happy you did.
If you need any help building affiliate links on your site or have questions regarding the TFAW.com affiliate program, please don't hesitate to contact our affiliate management team at "SAS@tfaw.com". We're here to help!