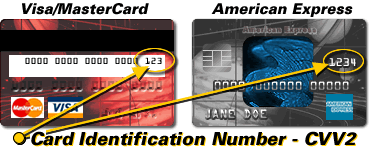 For your security, TFAW.com now collects the card security identification number (referred to as CVV2, CVC2 or CID) from your credit/debit card to prevent the fraudulent use of your account. The card security identification number is a non-embossed number located on your card that cannot be obtained easily by an imprint of your card or simply copying down the account number.
For your safety, this number is required to verify your charges with TFAW.com.
For Visa and MasterCard, the card identification number is located on the back of the card and consists of the last three digits on the signature strip.
For American Express, Optima, and Blue cardholders, the card identification number is located on the front of the card, printed above and to the right of your credit card number.
This number must be submitted with each order that you place with TFAW.com. For security reasons, we are not allowed to store CVV2 numbers in your TFAW.com account. As soon as your order is authorized, the CVV2 number is permanently deleted from our records.
All MasterCard cards (both credit and debit) were required to contain CVV2 codes by January 1, 1997. Visa cards were required to have CVV2 by January 1, 2001.
If your Visa/MasterCard/American Express card does not have CVV2/CVC/CID number or is unreadable, please contact customer service to complete your order.

If you have further questions or concerns, please contact us for assistance.