From Bandai Hobby. Utilizing pre-colored plastic and snap together assembly like GunPla, the Star Wars Character Line provides ease of assembly and feature rich detail!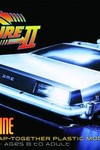 In the classic Back to the Future mvoies, the iconic DeLorean Time Machine evolved from film to film. The surprise ending to the first film hinted at what was to come as the DeLorean lifted off the ground and took flight. This model kit from Polar Lights introduces the Back to the Future Part II Time Machine. It features the same brushed-metal...
A Diamond Select Toys release! It's a smash from the past! This model kit of the Hulk depicts the occasional Avenger in a full charge, racing across a rubble-strewn landscape. A reproduction of the original 1960s Hulk model kit by Aurora, this re-creation scales it up from 1/12 scale to 1/8 scale, making it nearly 11 inches tall! Assembly is...