This website uses cookies so you can place orders and we can provide the most secure and effective website possible. By using tfaw.com you accept our use of cookies.
Learn more
or
Continue.




Found 2 items. Showing items 1-2.
Page 1 of 1

Found 2 results for

"Buffy Season Nine"

: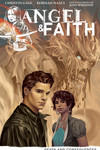 When a demon from Giles's past emerges in London, Angel has his chance to capture the final piece of Giles's soul. But when Faith's innocent Slayer friends end up standing between the guilt-ridden vampire and his prize, Angel is unwilling to sacrifice new lives for one that was already lost-even if it destroys his quest altogether! * Executive...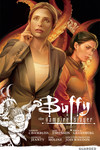 In a bold move to give disenfranchised Slayers a meaningful societal role (with pay), Kennedy recruits Buffy to act as bodyguard for high-profile clientele. But unlike the other recruits, Buffy struggles to abandon her Slaying instincts and looks for demony threats where none lie (much to Kennedy's dismay). So it's only natural that her first job...