James- Manager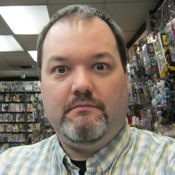 James has been reading and collecting comics for almost 30 years now. It all started with the Marvel Transformers title and exponentially grew from there into reading about everything under the sun.

On James' Pull List:
Paper Girls, All-Star Batman, Black Panther, Spider-Man/Deadpool, and Animosity.

James' Recommendations:
Kingdom Come, Marvels, Wolverine Old Man Logan, Planetary, Preacher, Sandman, Runaways, Infinity Gauntlet, Planet Hulk, Books of Magic by Neil Gaiman.