Kari- Manager
As a kid, Kari could be found most nights with a flashlight and an Archie book hiding under the covers reading well past bed time. Sabrina has always been one of her favorites, even into the campy TV show of the '90s.

Now Kari reads a little bit of everything, even the all-age books for their classic fun. Be careful though, she can talk for days about Harry Potter. When not reading, you can find her playing video and table top games. Her go-to favorites include Betrayal at House on the Hill, Dungeons & Dragons, and Elder Sign. Kari loves to connect with fans of all ages and is ready to make new and fun suggestions for anyone!

On Kari's Pull List:
Back to the Future, Kim & Kim, Harley Quinn, Jim Butcher's Dresden Files, Betty & Veronica, and Snotgirl.

Kari's Recommendations:
Rat Queens, Kim & Kim, and Black Panther. If you're on the hunt for a great all-ages comic, Lumberjanes, Amulet, and Gotham Academy are all wonderful!


Ethan- Associate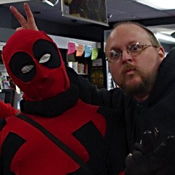 Ethan has been reading comics since he was eight years old when his Dad bought him Devil Dinosaur #1 and Shang Chi, Master of Kung-Fu! Since then, Ethan has become an official Comics Enthusiast, reading everything from Terry Moore's Strangers in Paradise to Jeff Smith's Bone.

Ethan also spends his leisure time playing the Pathfinder RPG and many other games of the board and card variety! Ethan is more than happy to lead you around Things From Another World to see what tales or games take you by the hand and capture your imagination!!

On Ethan's Pull List:
Aquaman, Batman, Black Hammer, BPRD, Dept.H., East of West, Grass Kings, Invincible, Invincible Iron Man, Lazarus, The Mighty Thor, Sex Criminals, Southern Bastards, and Wytches

Ethan's Recommendations:
ApocalyptiGirl by Andrew Maclean, Divinity I, II and III by Matt Kindt, Death Vigil by Stjepan Sejic, Essex County by Jeff Lemire, Harrow County by Cullen Bunn, Starman by James Robinson, Transmetropolitan by Warren Ellis, We 3 and All Star Superman by Grant Morrison, and anything and everything he has mentioned on his Pull List!!