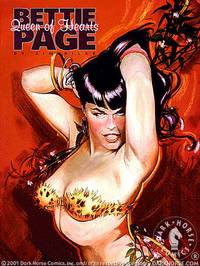 Bettie Page was born in Tennessee on April 22, 1923. Enduring a hardscrabble childhood during the Great Depression, Bettie was bright and resourceful, going to college on a scholarship and learning the finer points of hair, makeup, and sewing (skills that would serve her well later in life).
Although her original life's ambition was to be a teacher, Page later tried to become an actress, to limited success. What Bettie couldn't have envisioned is that she would become a legendary pinup model, and a fashion icon whose sense of style and approachable-yet-glamourous look would influence millions of women (and men!), including Dita Von Teese, and artists such as Dave Stevens, Jim Silke, and Terry Moore.
Bettie Page Poses for Her Notorious Photos
After a chance meeting with an amateur photographer at Coney Island, Bettie posed for her first series of photos, building a portfolio that would lead her to photographer Irving Klaw. The series of bondage and S&M photos the two created were sold under the counter in hundreds of shops during the conservative 1950s, and Bettie Page was on her way to becoming the most popular pinup model the world has ever seen.
From 1952 to 1957, Bettie posed for hundreds of photos that have left their mark on pop culture forever. Whether she was laughing on the beach or acting the part of a stern dominatrix, there was something special about Bettie that caught the eye and inspired the imagination. Working with photographers like Bunny Yeager, Jan Caldwell, and H. W. Hannau--and eventually posing for a relatively new publication called
Playboy
--Page reached the zenith of her initial fame.