What is WatchDog?
WatchDog is a great feature on TFAW.com that will notify you when anything from your favorite series (or whatever you want) is released. You specify the products you're interested in "watching," and we'll let you know whether or not there are any new matches!
How do I use WatchDog?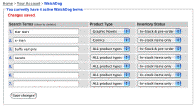 Log in to your existing account (if you don't have an account you'll need to create one) and under the WatchDog section, enter as many product titles as you like into the search boxes, select a product type, and whether you would like to see in-stock, pre-order, or both types of products, then click the "Save Changes" button.
For example, if you're a big X-Men fan, type "X-Men" (no quotation marks) into the search field, select "Comics" from the Product Type popup, and "In-Stock AND pre-order items" from the Inventory Status column, then Save Changes. We'll then e-mail you weekly, letting you know if any are new comics in stock or up for pre-order with the word "X-Men" in the title. If you are only interested in Uncanny X-Men products, then you need to specify that in your search terms. These terms may be as general or specific as you like.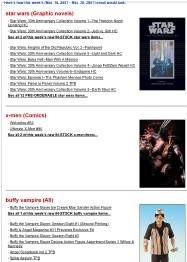 After you save your changes, the latest matches will be displayed on the page to indicate what (if any) products fit your searches. Please note that your searches may not have any results when you set them up.
WatchDog notification e-mails
Please make sure that the e-mail address we have on file for you is valid, otherwise your WatchDog notification e-mails won't reach you. We send notification e-mails on Fridays to let you know whether or not products matching your search terms have been released.
What does WatchDog cover?
WatchDog can notify you of all new items we receive in stock, as well as items recently added as pre-orders.
Editing your WatchDog terms
Adding or deleting WatchDog terms is easy! Just log in to your account and add, delete or change the terms currently listed. To delete a term, remove it from the search box. When you're done, make sure to click the "Save Changes" button.
Please contact customer service if you have any questions.